America Saves

February 24th through February 28th, 2020
Home Federal Bank is a proud partner of the America Saves Campaign and a winner of the
America Saves Designation of Savings Excellence Award for 2017, 2018, and 2019!
Product specials are valid from February 3th through March 31, 2020. Open a Smart Savings, Relationship Savings, or a Minor Savings Account during America Saves Week (Monday, February 24th through Friday, February 28th, 2020) and receive a FREE Gift!*
Click the menu to get started:
---
America Saves Week is coordinated by America Saves and the American Savings Education Council. Started in 2007, the Week is an annual opportunity for organizations to promote good savings behavior and a chance for individuals to assess their own saving status. Typically thousands of organizations participate in the Week, reaching millions of people.
The 2013 Annual National Survey Assessing Household Savings (released during America Saves Week) revealed that only about half of Americans reported good savings habits.
54% said they "have a savings plan with specific goals."
43% said they "have a spending plan that allows you to save enough money to achieve the goals of your saving plan."
50% of those not retired said they "save for retirement at work through a 401(k) or other contributory plan."
41% said that, "outside of work," they "save automatically through regular preauthorized transfers from checking to savings or investments."
49% know their net worth.
With more societal encouragement and support, more Americans will be persuaded to Set a Goal. Make a Plan. Save Automatically.
About America Saves
America Saves is a national campaign involving more than 1,000 non-profit, government, and corporate groups that encourages individuals and families to save money and build personal wealth. Overall management for the campaign is provided by the non-profit Consumer Federation of America (CFA). CFA is comprised of over 270 consumer education, advocacy, and cooperative organizations dedicated to advancing the consumer interest.
About American Savings Education Council
ASEC is a national coalition of public- and private-sector institutions committed to making saving and retirement planning a priority for all Americans. ASEC is a program of the Employee Benefit Research Institute Education and Research Fund (EBRI-ERF), a 501©(3) non-profit organization. ASEC does not lobby or take positions on public policy proposals. ASEC educational materials are available at: www.choosetosave.org
Since its creation in 1995, ASEC has driven the financial security mission forward with the collective leadership and efforts of a coalition of major organizations. ASEC brings together public- and private-sector partners to share information on best practices and to collaborate on financial security initiatives Partners of the ASEC coalition provide critical input and help to shape the organization's agenda, and benefit from research and education that is worth millions.
Let Home Federal Bank and America Saves help you reach your goals. It all starts when you make a commitment to yourself to save. That is what the pledge is all about.
Information submitted using the form above will be sent to America Saves. They will share your saving goals with Home Federal Bank. This form is not managed by Home Federal Bank and you should read the ASW Privacy Policy linked below.
Interested in receiving helpful tips and reminders about your savings goal? America Saves launched a new free text message service, as part of Financial Literacy Month, to keep you motivated to save.
This checklist is made up of characteristics of successful savers, which include debt management. It can serve as a useful starting point for evaluating one's savings preparedness.
Like your health, you should assess your savings annually to make sure you are saving for all the right things. Complete the assessment to see if you are saving adequately and create a savings plan.
Videos on thinking and acting like a saver, saving for a large purchase, and information about credit scores.
An archive of our quarterly newsletters. Features a true saver story, tips from savers, and news you can use.
More information to help you save successfully.
Saving money, improving your financial life, building wealth. It all starts when you set a goal and make a plan to reach that goal. So what is your goal? Set up an emergency cash fund? Get out of debt? Make a down payment on a car or home? Sock away money for college or retirement?
Those with a savings plan are twice as likely to save successfully. Cash in those dusty jars of pennies. Pack your lunch instead of buying it at work. There are lots of little things you can do to fund your savings. Just be creative.
Not sure what you should be saving for? Get started with one of our top five savings strategies.
The first step to saving more efficiently is to keep track of what you spend and budget. There are many different ways to do this, try a few out and choose the system that works best for you. The key to saving more successfully is to find a system that works for you and to stick with it.
54 ways to cut back spending and save some cash.
Find out how small amounts saved each month can equal large yearly savings.
Having an emergency savings fund may be the most important difference between those who manage to stay afloat and those who are sinking financially.
Not sure where to put the money you save? These accounts can help keep your money safe, secure, and growing.
Receiving a refund this tax season? Learn how to use that money to pay down debt and save instead of buying something you might not really need.
---
How to Enter: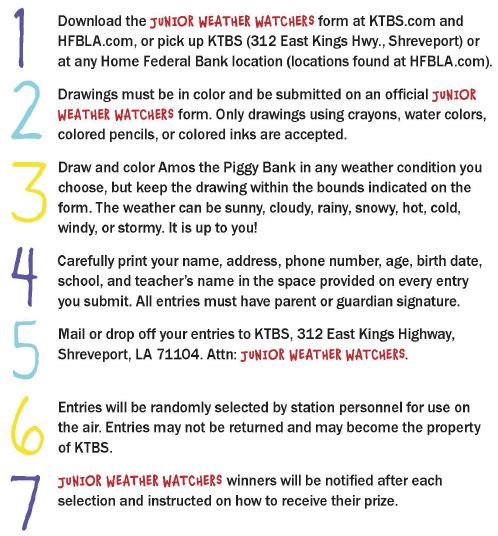 This program is owned by KTBS, Shreveport, LA and sponsored by Home Federal Bank, Shreveport/ Bossier City. Any reproduction on a local basis without permission and payment of royalties is strictly prohibited. Complete rules are posted online at KTBS.com. Odds of winning are based upon number of entries submitted. Void where prohibited. ©2020 KTBS-3.
*Contest participation open to ages 7 to 11 only; children of HFB employees ineligible. Contest begins Monday, Feb. 3, 2020. Eligible participants are limited to (1) entry each; All entries MUST be received no later than Thursday, Mar. 20, 2020. Home Federal Bank will select ( 4) total winners by a random drawing from all correct eligible entries, and all winners will be announced on Tuesday, Mar. 30, 2020. (2) Second Place Winners will each receive a $100 deposit into their very own HFB Minor Savings Account; (2) Grand Prize Winners will each receive a $150 deposit into their very own HFB Minor Savings Account as well as (1) new bicycle; Parent/
Guardian MUST be listed on account for ALL contest winners. Funds via monetary prizes deposited into winners' HFB Minor Savings Accounts available for withdrawal as of Wednesday, May 6, 2020.
Open a Smart Savings, Relationship Savings, or a Minor Savings Account during the week of America Saves Week (observed Monday, February 24th through Friday, February 28th, 2020 at all HFB branches)
and receive a FREE Gift!*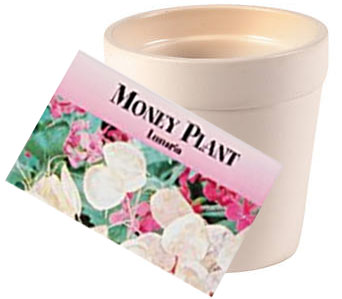 Now you can really watch your savings grow!
Receive (1) pack of Money Plant seeds when you open an America Saves Product Special Account (listed above).
*Limit one per household. Offer only valid from February 24 to February 28, 2020.