Business Platinum Credit Card
Home Federal Bank is proud to offer a local credit card to give your business global purchasing power. HFB's Platinum Collection from MasterCard offers you a credit card designed to complement the way you do business provided by the community bank you trust. The Platinum Collection offers three styles of cards for you to choose from: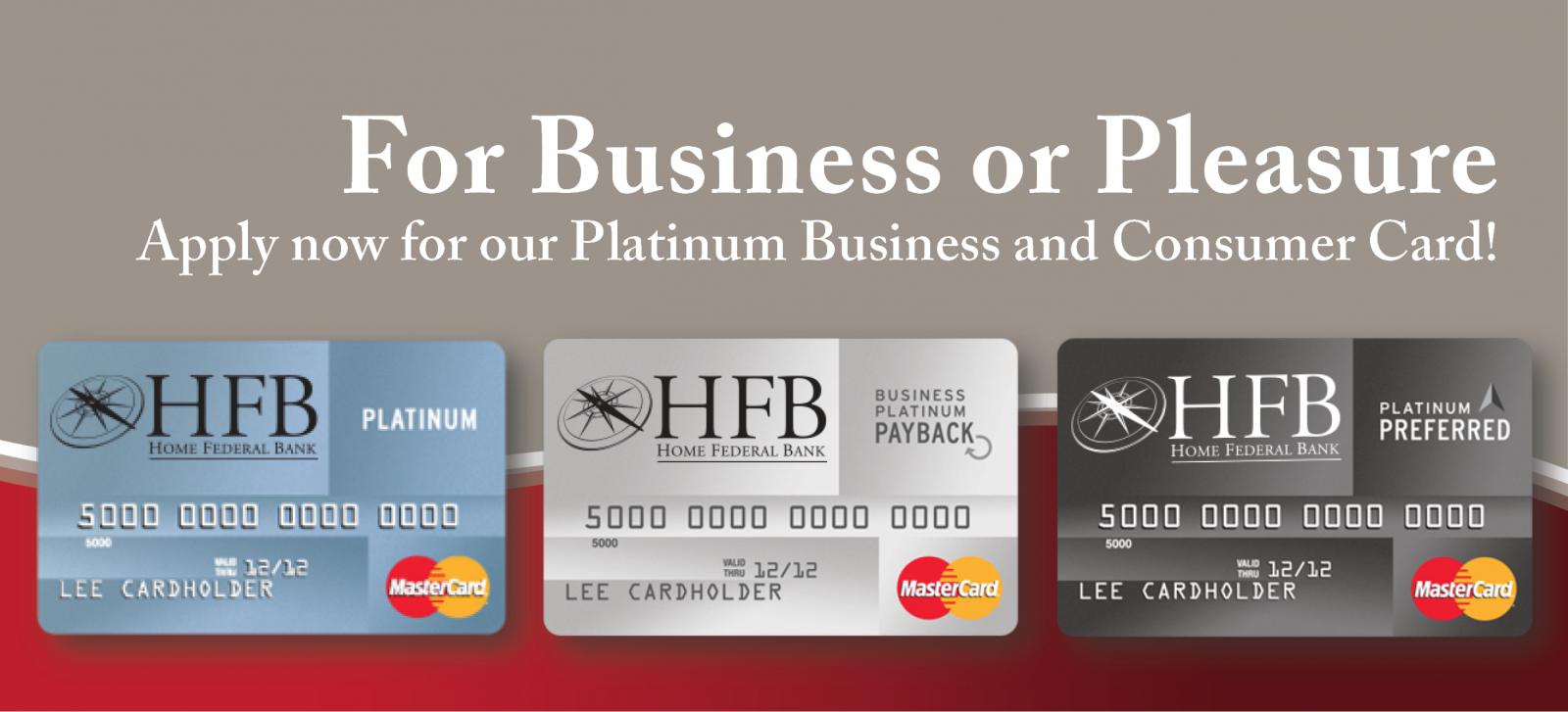 Platinum
Elevate your purchasing power with the branded Business Platinum Card.
Experience immediate savings thanks to no annual or monthly fees and competitive Annual Percentage Rates (APR)
Online access to your spending information for increased financial control
Insure and protect your business travelers with extensive business and travel services
Business Platinum Payback
Put your expenses to work for you with our Platinum Payback program.
Earn 1% Cash Back on all your qualifying purchases
Cash Back will be paid to you automatically on an annual basis
Business Platinum Preferred
Features higher spending limits and Platinum Rewards designed to make every dollar count.
Opportunity to earn double and triple reward points on qualifying everyday purchases.*
Additional card enhancements include identity theft resolution services, travel accident insurance, baggage delay and lost luggage.
The Business Platinum Card also offers:
No Annual Fees*
24/7 Customer Support
Online Reward Tracking
Protection and Security Services
Apply online now, or simply stop by any HFB branch for an application, or call us at 318-222-1145 to apply over the phone.
*Enrollment in HFB Online Banking is required to use our mobile app!* Mobile carrier's text message and data usage charges may apply. Contact your provider for details. Endorsement required for mobile deposit. Limitations may apply. Please refer to HFB's rules governing funds availability. Use of the HFB Mobile App requires iOS 11.0 or later, and Android 9.0 or later
*Subject to enrollment and periodic promotions. Terms and conditions apply. MasterCard and the MasterCard Brand Mark are registered trademarks of MasterCard International Incorporated. Offer of credit is subject to credit approval. 15.49% Annual Percentage Rate (APR). 3.99% APR introductory rate for balance transfers. 18.99% APR for Cash Advances. 22.99% Penalty APR applied to your account if you: 1) make a late payment, or 2) make a payment that is returned, or 3) do item 1) or 2) on any other account held with us. Balance Transfer fee is $10.00 or 4% of the amount of each transfer, whichever is greater, but no more than $45.00 per transfer. Cash Advance fee is $10.00 or 5% of the amount advanced, whichever is greater. Convenience Check fee is $10.00 per check, check must be greater than $150. Foreign Transaction fee is 3% of the US dollar amount of the transactions originating in a foreign country. Late payment fee is up to $35.00. Returned Payment fee is $25.00 per item.