Home Federal Bank Named CFF Community Champion for Dual Sponsorship
SHREVEPORT, La—Home Federal Bank ("HFB"), a wholly-owned subsidiary of Home Federal Bancorp, Inc. of Louisiana (NASDAQ: HFBL), is named Community Champion for their Dual Sponsorship of both the Cystic Fibrosis Foundation's Great Strides 30th Anniversary and Shreveport-Bossier City's Finest. Great Strides and Shreveport-Bossier's Finest are two annual events that aim to promote CF awareness and honor those in our community who continually commit their time and effort to making a difference in the lives of children and adults living with cystic fibrosis.
For 30 years, the Cystic Fibrosis Foundation's largest fundraising event has supported the mission to cure cystic fibrosis and raise awareness for this rare, genetic disease. The annual Great Strides 5k Walk provides the community the opportunity to collectively take steps toward making helping to better the lives of those with CF. Shreveport-Bossier's Finest honors a select group of local men and women who are committed to professional growth through a guided fundraising and awareness campaign. Each year, honorees are nominated and recognized for exemplifying leadership and excellence in the community.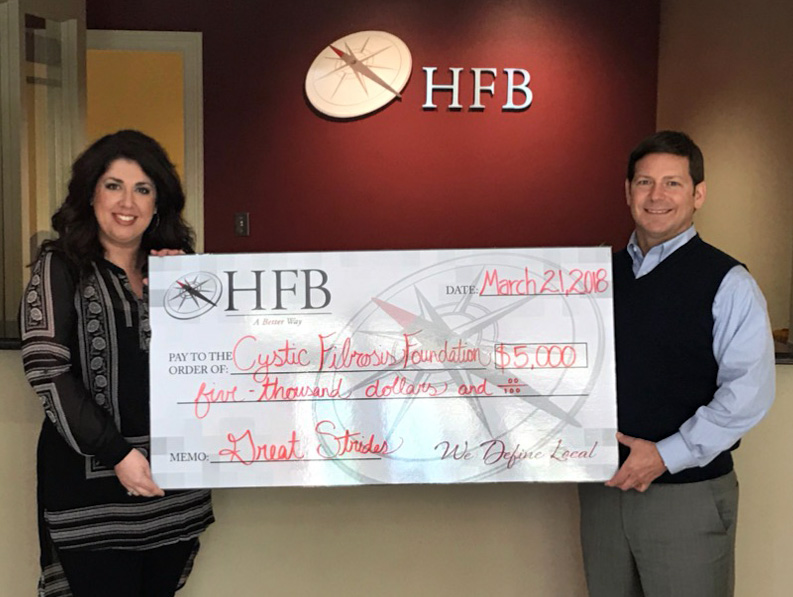 Brandi Jones, Development Director, SBC-CFF with Jim Barlow, President, Home Federal Bank.
"We truly feel privileged to be the Community Champion and Dual Sponsor for Great Strides and Shreveport-Bossier's Finest this year," said HFB President, Jim Barlow. "At HFB, we are very passionate about lending our efforts to accelerate research and life-saving drug development for the 130+ patients across Shreveport-Bossier, and we are proud to aid in providing ongoing care and advocacy for these brave individuals as well as their families."
Great Strides 5K 2018
Date: Saturday, May 5th, 2018

Check-In: 8:00 AM

Walk: 9:00 AM

Location: BPCC Campus,
Bossier City, LA
View the Map

Donations: Please convert cash
donations into a money order or check before mailing or bringing
to the event.

---
About Cystic Fibrosis
Cystic Fibrosis is a genetic disease that
affects the lungs and digestive system.

There are approximately 30,000 children
and adults living with CF in the U.S.

Of the total population in the U.S.,
there are approximately 10 million
individuals who remain symptomless
carriers of the gene.

Both parents must have the gene for
the child to be born with CF. If both
are carrying then there is a 50% chance
the gene will be passed on, and a 25%
chance that they will have CF.

When the CF Foundation was founded
in 1955, children rarely lived to
elementary school age. Today, the
median predicted age of survival is
more than 40.

There are now 3 FDA approved drugs
available to patients that treat the basic
defect. These drugs are made possible
by the CF foundation and our community supporters. Events like Great Strides
make it possible to fund these drugs.
Thank you for your support!