HOME FEDERAL BANK BOARD MEMBER COMMISSIONED CHRISTUS SHREVEPORT-BOSSIER CEO
SHREVEPORT, La—Home Federal Bank ("HFB"), a wholly-owned subsidiary of Home Federal Bancorp, Inc. of Louisiana (NASDAQ: HFBL), congratulates esteemed member of the Board of Directors, Dr. T. Steen Trawick, Jr. for his Commissioning Mass and Celebration as the newest Chief Executive Officer of the CHRISTUS Shreveport-Bossier Health System. The ceremony took place at Holy Trinity Catholic Church in Shreveport, on Wednesday, October 23rd, 2019. As part of Catholic tradition, the commissioning of a senior healthcare leader is a crucial part of ensuring the faith-based principles of care and compassion are the foundation of the new administrator's path and direction moving forward. Dr. Trawick assumed the role of CEO on August 12th, 2019, and has been associated with CHRISTUS in Shreveport since 2005.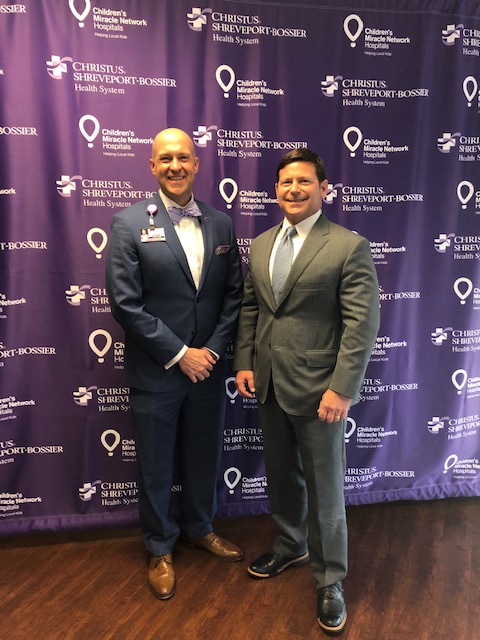 Pictured above: (Left) Dr. T. Steen Trawick, Jr., Christus CEO and Jim Barlow, HFB President.

"HFB is pleased to recognize Dr. Trawick and his commitment to serving his community with faith and integrity," said Jim Barlow, President and CEO or Home Federal Bank. "Not only does his talent for management tremendously benefit our proficiency as an organization, his celebrated expertise among the medical community has granted HFB valuable insight into important conflicts and solutions that impact our local healthcare every day."
A native of Monroe and graduate of Louisiana Tech University in Ruston, Dr. Trawick has lived in Shreveport since attending and graduating Louisiana State University Health Sciences Center, where he also completed his residency in Internal Medicine and Pediatrics. He began his career as a private practice physician at Highland Clinic and has been on medical staff at CHRISTUS Highland since 2001. In 2005 he assumed the role of Pediatric Hospitalist at CHRISTUS Schumpert. Dr Trawick helped launch the first adult hospitalist program at CHRISTUS Highland in Shreveport, where he later served as Chief of Staff from 2014-2015. Before being named CEO of Christus Shreveport-Bossier Health System in August 2019, he was serving as Associate Chief Medical Officer for Sound Physicians, which employees more than 3,000 physicians.
Active in local and state medical politics, Dr. Trawick has served as past President of Shreveport Medical Society and currently serves as a member of the Governor's advisory board for Physician Assistants and Vice Speaker of the House of Delegates for the Louisiana State Medical Society. He is a former member of LSU Board of Supervisors and Louisiana State Board of Regents.
"Dr. Trawick's accomplishments are especially significant to many of us at Home Federal because they represent a connection between HFB's key principle, which is improving the financial health of its customers, to helping improve the physical health of countless locals across the Ark-La-Tex," said Jim Barlow. "Afterall, the son of non-other than HFB's Founding Father, A.L. Wedgeworth was, and still is, a locally-celebrated pediatric physician. We are proud to honor the legacies of both father and son."
A.L. Wedgeworth, Jr., M.D., a graduate of both Byrd Highschool and Centenary College, graduated from LSU Medical School in New Orleans and interned at Highland Hospital before completing his residency. He was a lifelong resident of Shreveport and practiced pediatrics in Shreveport-Bossier for almost 50 years. A.L., Jr. was a member of many professional associations, and like Dr. Trawick, served as Chief of Staff at Schumpert Hospital and as a member of a local group of physicians who helped found what we know today as the LSU School of Medicine in Shreveport.
Home Federal Bancorp, Inc. of Louisiana is the holding company for Home Federal Bank which conducts business from its seven full-service banking offices and one commercial lending agency office in northwest Louisiana. HFB is a full-service community bank committed to providing an unparalleled level of personal service while helping customers meet all their financial needs. Additional information is available at www.hfbla.com.
-end-
Released by: Kat Herrin, Marketing Officer / Home Federal / 318.841.5394/ kat.herrin@hfbla.com